FAQ Perfectly Engraved
Wednesday, 24 June 2015 12:57:06 Europe/London

At Perfectly Engraved we understand that there are sometimes some extra questions you need to know about your purchase or even before buying.
Here are a few of our frequently asked questions to help aid you.
Is Engraving Available On Everything?
Not everything, some items do not have enough available space. It is best to check the product infromation for the engraving option.
Where Will The Item Be Engraved?
Our in house engraver chooses the most tasteful location for your engraving, but will always take into consideration the customers personal choice. Most of the time the item will already have a specified place for engravings. Hallmarks on items are not engraved by us, unfortunately this means we have no control over their location.
What Is Engraving?
We carry out rotary engraving for our products to deliver a personal message on your item.
May I Return An Engraved Item?
Unfortunately engraved items cannot be returned as they are bespoke and cannot be resold, no refunds can be offered for engraved products so we implore the customer to double check their product details before placing an order as the engraver will do it exactly as stated.
May I Have A Non-Silver Groves Item Engraved.?
We do offer engraving on items not bought from our store, however there is no guarantee on this service and require the customer to be aware of the level of risk to heirlooms and precious items.
Do You Post To Countries Outside The UK?
Yes! We post worldwide and use a number of trustworthy courier services.
Is There An Extra Cost For Engraving?
Yes, there is a small extra charge per character of engraving, you can calculate this on the product page.
What Is The Character Limit?
The character limit varies per product due to the amount of available space, you can check this on the product page or by contacting us.
How Many Font-Types Are There?
These are our dedicated fonts, available in product information.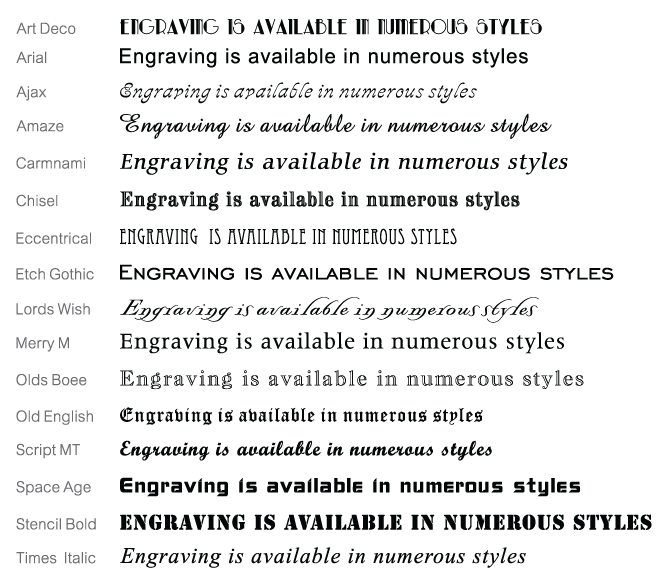 Can I Return The Item For A Refund?
Please refer to our after sales and returns for further details. Unfortunately we do not give refunds for bespoke/engraved items. If you are claiming against damage to your item, photographic evidence must be provided within five working days of receiving the item and given upon initial emailing.
Can I Exchange For Another Item?
If the item you bought is not as expected and you would prefer another, we can do an exchange providing that the item is sent back in its original packaging and condition and the item you wish to exchange with is the same price. If the item is of a higher cost you will be asked to pay the additional funds. If the item is cheaper we will refund the difference.
Please note: we will not be able to exchange the items until we receive the original. If the item is engraved, under most circumstances, we will not be able to exchange as all engraved items are made to order and not resalable.
Do I Get A Discount If Ordering In Bulk?
If you would like to order in bulk, we do offer discounts. However, as our price range can alter we request that you either ring /email your enquiry so that we can give you a custom made discount code.
Can I Get My Item Gift Wrapped?
Most items are available to be gift wrapped on the site. However, items that do not have a casing like some of our keyrings are not able to be wrapped.
Does My Item Have A Hallmark?
In most cases your items picture (found when you click onto the item) will show the hallmark and the name of the item should include the word hallmark. If you are unsure if your chosen product has a hallmark or would like to know the year of manufacturing then please feel free to contact us.
If your question was not answered, please don't hesitate to contact us and our customer service team would be more than happy to help solve your problem!
Posted in
News
By
Sean Anderson