The Perfect Paper Sizes for Photo Frames
Friday, 12 June 2015 09:29:48 Europe/London

What Size Picture Frame Do I Need?
The Perfect Paper Sizes for Photo Frames
So many people have photo frames for their home but many people struggle knowing what size print they need to fit inside. A frame is a bigger investment than the photo because this is what will protect your image for years to come. You want it to bring out the best in the image but also blend the frame itself into the background so it does not distract or clash with your décor. For these reasons frames have become very versatile, available in an abundance of colours, styles and designs. Many people panic when they want to buy a frame because they don't understand the sizing procedure as swiftly as they would have hoped. This little blog post should help with that.
Firstly let's get one things straight, the dimensions shown for a picture frame show the sizes needed for the photograph, not the dimensions of the actual frame. A picture frame could show a 6x4 picture but has a very thick frame, making it look much larger, so make sure the image you put in your frame is the size specified by the dimensions, i.e. 6x4. Typically, frame and photo dimensions are shown in inches, this may vary depending upon your place in the world.
When reading dimensions, it reads width x height, so a 6x4 frame is dictated to being a landscape frame of 6" in width and 4" in height. It is a little more complicated for photo frames if you think too hard about it. When we get our photographs printed or developed at our local Boots (if people still do that these days), the photographs come out as 6x4 prints as standard, usually landscapes because of how a camera takes a photograph; however when we buy a picture frame, it is often depicted in a portrait orientation, so 4x6. Because most frames can universally be used as both landscape and portrait frames, the portrait frame will usually be labelled as a 6x4 as it is also more pleasing to read the largest number first. It all gets very confusing if you think about it too long and hard.
The most common photo sizes you will be looking at for your frames are listed below, and I have even linked to some of the most popular sizes for you:
4x5
4x6 (common)
6x8 (common)
8x10 (common)
8x12
8.5x11
9x12
10x13
11x14 (common)
12x16
14x18
16x20 (common)
20x24 (common)
22x28
24x30 (common)
24x36 (common)
30x40
More popular Paper Sizes are the ISO A series, a universal measurement for paper sizes in the commercial world. The sizes maintain a 1:1:41 ratios for all paper sizes, meaning you could get A1 by halving an A0 sheet along its shortest side to shortest side.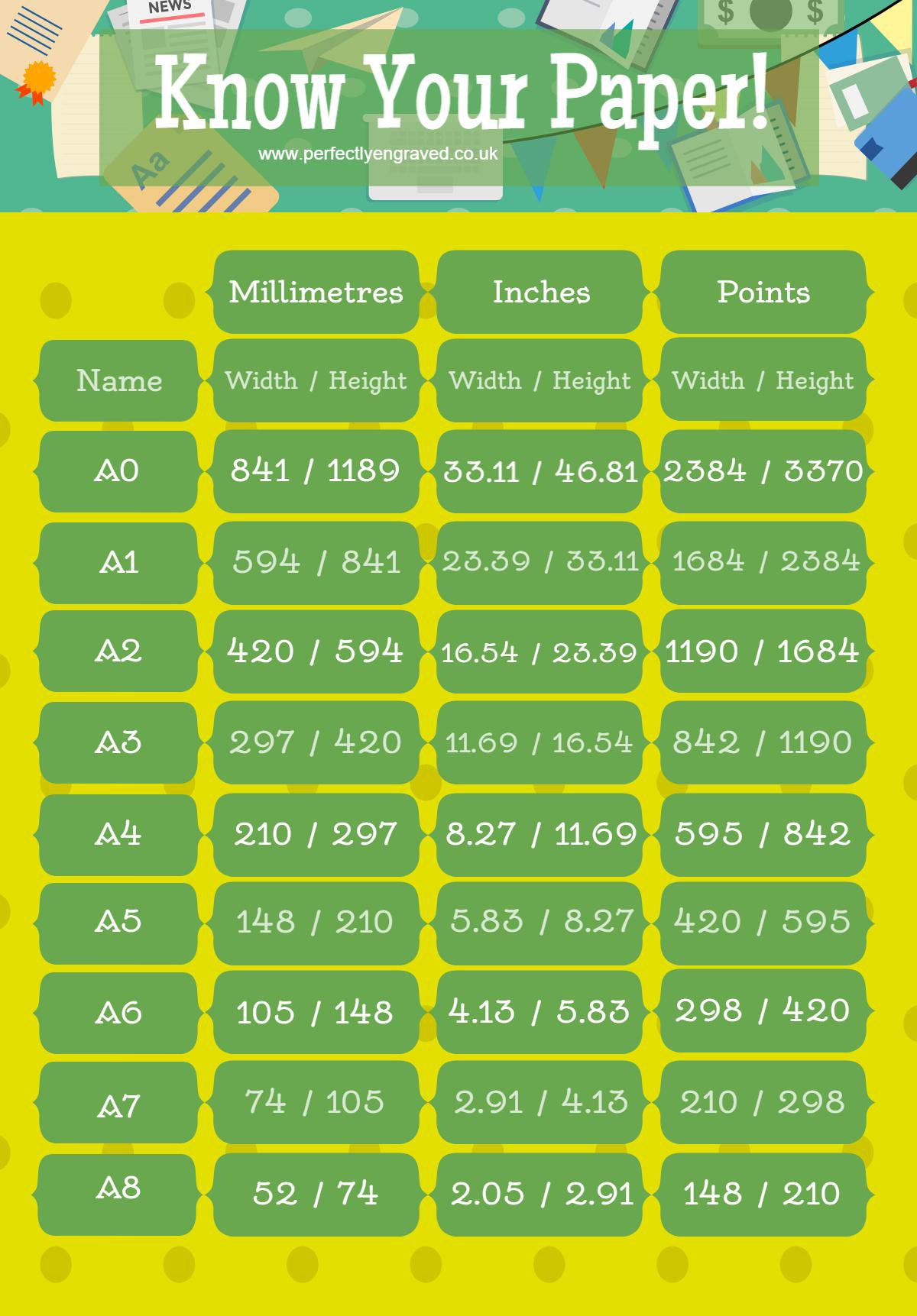 As well as A paper sizes, there is also B and C, all coinciding together for commercial ease of use. C paper sizes are solely used for the creation of envelopes and are sized so that an A4 piece of paper will fit perfectly into a C4 envelope. The B range is for papers larger than all A sizes and is used for extra-large projects such as posters or for economic reasons. The A, B, and C brands of dimensions are not traditionally used for measuring photo frame sizes; however as a universal measurement of commercial paper on a whole, it may be useful to know for related purposes.
A0 – Measure 1 square metre
A4 – Office documents
A5 – Notepads
A6 – Postcards
A8 – Business cards
I hope this article has been of use to you, feel free to share or use segments of the text – just be sure to link back to me! If you are interested to know more about frames, there are a few fun facts here. Be sure to let me know if you have any questions or feel I could anything further to this blog, I will also consider linking to other related sites!
Posted in
News
By
Kate Robinson